The American Heart Association states that you are more likely to witness a medical emergency with a family member than anyone else. Would you know what to do if someone was having a seizure or heart attack? Learn to recognize and manage a wide number of medical emergencies and injuries by enrolling in basic first aid and CPR certification courses in Surrey, B.C. The leading provider of these courses in the Lower Mainland is Vancouver First Aid Ltd. This provider has two training locations with the most popular classroom located in Newton. Participants may sign up for a variety of courses including online safety, food safe level 1, occupational first aid, standard first aid and CPR, and AED "only" training. Customers that register with this provider in Surrey are assured of the lowest prices, highest quality, and most experienced instructors available. Learn first aid and CPR in Surrey by using the contact information provided below.
What Courses Are Available?
Participants have the option of registering for a large selection of courses. Here's a list of courses available with this provider:
Standard first aid, CPR level "A", "C" or "HCP" and AED – 136.99
Emergency first aid, CPR level "A", "C" or "HCP" and AED – 79.99
Childcare first aid, CPR level "B" and AED – 79.99
WorkSafe BC approved occupational first aid level 1 (OFA level 1) – 79.99
Food Safe Level 1 – 74.99
Babysitting Training – 54.99
The above-posted list is a brief list of the popular courses available in Surrey. The following classes are also available either in open programs, private classes, or online.
Basic Life Support (BLS)
Advanced Cardiac Life Support (ACLS)
Pediatric Advanced Life Support (PALS)
WHMIS Training
MSDS Training
Visit the website to find out all of the courses available in Surrey.
How Do I Register?
To register for a food-safe, safety, and/or first aid certification course in Surrey use the following contact information.
Telephone Number: 778-709-9180
Email: info@vancouverfirstaid.ca
Website: http://vancouverfirstaid.ca/surrey/
Training Address: 7238 137 St, Surrey, BC V3W 1A4
For more information about the training, and location views the map below.

Private classes are available for groups of almost any size. Use the contact information above to receive a quote.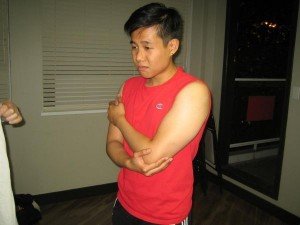 What Does it Take to Pass the Course?
The requirements for passing a program are:
100 percent attendance
75 percent and higher in the written exam
good return demonstration of first aid and CPR skills
If a participant attends 100% of the course and does not successfully complete it the first time he or she can attend the course one more time free of charge.
What Certification Will I Receive?
Participants who complete occupational first aid level 1 will receive certification that meets WorkSafe BC standards. Other courses, such as standard and childcare first aid provide certification that meets many workplaces and academic requirements. Contact your employer and/or school to determine what certification you need.
What Will I Learn?
Individuals that register for first aid and CPR certification courses in Surrey will learn about the following topics
Effective American Heart Association 2012 consensus approved cardiopulmonary resuscitation
Effective use of automated external defibrillators
Recognition and management of victims of circulatory and respiratory emergencies
Management of victims of fully and partially obstructed airways
Management of unconscious victims
How to stay safe, be prepared and contact EMS during an emergency
How to recognize and manage sudden medical and environmental emergencies
What are the 5 rights of medication are
Compression only CPR
Participants that enroll in certification programs in Surrey will practice these techniques using mannequins and volunteers.
Did You Know?
Bedsores
Bedsores are caused by a combination of friction and prolonged pressure. They are commonly found in chronically ill patients who are bedridden and do not turn frequently. The areas are often manifest bedsores are:
Tailbone (sacral area)
Buttocks
Shoulder blades
Backs of the extremities