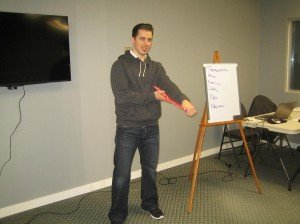 Regina First Aid has been offering prospective trainees high quality workplace approved certification programs in Regina since 2009. Basic and advanced first aid and CPR training courses, stand-alone CPR classes, and refresher courses are available throughout the week. Popular courses such as standard first and and health care provider cardiopulmonary resuscitation (CPR) classes are available multiple times per week. Regina First Aid also offers incredibly low prices for all available classes with training starting as low as 59.99 (includes tax).  On-line safety training for WHMIS and TDG as well as H2S alive and food handling courses are also available. Certificates meet workplace requirements and are valid for at least 3 years. Become a part of the chain of survival and learn to manage serious medical emergencies by enrolling in first aid and CPR certification courses in Regina, Saskatchewan.
Registration
To view a complete list of available programs, visit the Regina First Aid website by clicking  this link. The website has a list of rates and schedules, as well as a registration form. Trainees are also encouraged to register via e-mail, telephone call, or walk-in during business hours in any of Regina First Aid's training centers.
First Aid and CPR Certification Programs
Participants may select from 2 different popular first aid, CPR and AED courses.
Standard first aid – two day course that includes training in sudden medical emergencies, circulatory emergencies and a variety of environmental emergencies. Re-certification is available.
Standard childcare first aid – two day course similar to standard first aid but with additional components for childcare workers. Re-certification is available.
Stand-alone CPR classes are also available if the trainee does not want to enrol in the full training course.  CPR training is offered in a half day course (approximately 5 hours) and is divided into either CPR level "A" (adult rescues only), "C" (rescues for all ages) or "HCP" (rescues for all ages at a health care provider level). Registration for either course is available on the website. Re-certification classes are available for level's "C" or "HCP".
Certificates
Once a trainee complete a course, he or she is given a workplace approved training certificate valid for three years throughout Canada. Participants that need to renew expiring awards can do so through workplace approved re-certification courses available through this provider.
On-line Application Form for First Aid and CPR Certification in Regina
Rates
Regina First Aid offers the cheapest rates for all courses, with rates inclusive of taxes, certificates, workplace approved registration fees, and training manuals. Trainees who drop out are entitled to full refunds, provided a 72-hour notice is given beforehand.
Instructors
All classes are taught and overseen by workplace approved certified instructors. The Regina First Aid staff is known to be very friendly, accommodating, and the best in their given fields.
Facilities
Regina First Aid training facilities are very high-end, outfitted with the latest training equipment for CPR and first aid training. The facilities are easily accessible as well, within walking distance to public transportation and amenities such as free parking and restaurants.
Did You Know?
Ruptured tendons
Sprains are often manageable at home – except when the tendon is ruptured. Injuries like that need immediate medical attention or they won't heal properly. One of the most common tendom injuries aside from knee injuries is a ruptured Achilles tendon. The Achilles tendon is a strong cord that connects the muscles of the calf to the calcaneus or your heel bone. People with ruptured Achilles tendon feel a sudden snap and pain over the area, causing difficulty walking.